Read Time:
6 Minute, 21 Second
In 1957, playwright Jerome Robbins along with music composer Leonard Bernstein and lyricist Stephen Sondheim (writing for his first Broadway show ever) conceived an idea: a new take on Shakespeare's Romeo and Juliet. This take would turn into a worldwide musical stage phenomenon that has taken pop culture by storm, given how much it's been referenced, revisited and revived over the years. West Side Story, a tale of love, betrayal, loyalty, angst and social problems even translated from a Broadway smash, to a silver screen staple in 1961 starring Rita Moreno (an important name that you'll need to remember later), which I found very enjoyable, despite the 1961 film having its issues in hindsight. However, after the original won 10 Academy Awards including "best picture", being deemed "culturally, historically, or aesthetically significant" by the Library of Congress (among many other accolades), there's no way that a film remake can come remotely near that high level of acclaim, or at least a high level of esteem amongst film fans.
Then one day, world-renowned director Steven Spielberg (War Horse, Ready Player One, Hook) told us to hold his proverbial beer…
After numerous Broadway stage revivals and 60 years after the original film, West Side Story returns in a new film courtesy of the aforementioned Spielberg and a near-perfect cast of actors in roles considered by many (including myself) to be iconic, along with a more grounded in reality aesthetic, well-crafted choreography, great things about the original film made better, and certain problematic element eliminated completely.
Just like in the stage musical and the previous film, West Side Story is a late 1950's tale that deals with a time of tension deep in the Upper West Side of the Manhattan area of New York City. Two rival street gangs– the Jets, comprised of young, poor and working class white Americans, and the Sharks, who were comprised of young working class Puerto Ricans whose families came over from the territory to try and build a life in New York. These two gangs have been at each other's throats for quite some time due to the violent, blatant and fear-fueled racism of one, and the other to defend themselves from said treatment along with asserting their dominance. On top of dealing with police, and the added element (for this version of the film) of looming, rapid gentrification of the area (thanks to the construction of the Lincoln Center), things between the two factions become exponentially complicated when Tony (played by Ansel Elgort), the Jets' former leader who's trying to live a honest life working at a general store, and Maria (played by newcomer to the screen, Rachel Ziegler), the sister of Bernardo (played by David Alvarez) — amateur boxer and leader of the Sharks, have a chance meeting at a high school dance, which prompts both sides to orchestrate a huge rumble (aka an all-out war). As the love between Maria and Tony continues to grow, so does the tensions between the gangs. With all of this blended together, the Upper West Side is just one giant social kettle just waiting to blow.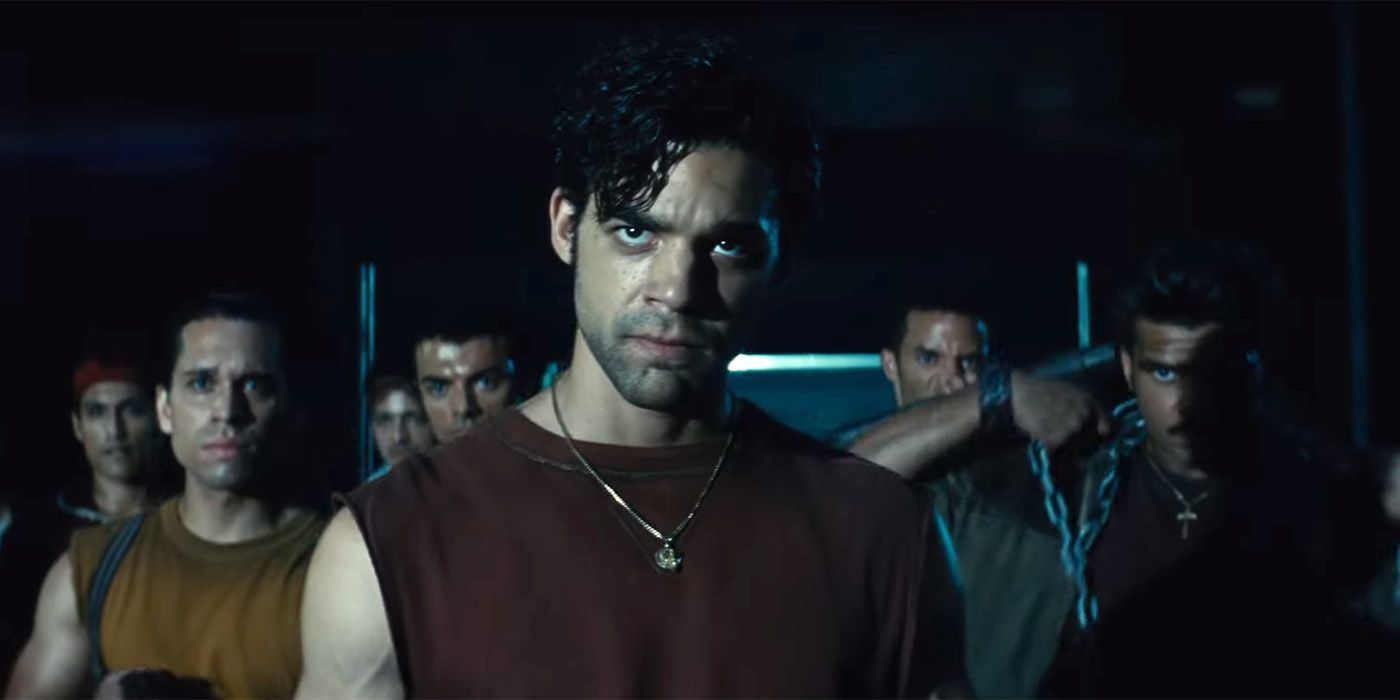 Nearly all of the performances in this movie stand out in a very moving way. The ruthlessness of Riff (played by Mike Faist)– the leader of the Jets. Bernardo's willingness of bringing honor to his culture and the people in it (in his own way) while dealing with savage discrimination. Maria's hopeful optimism despite the fact that a shadow looms over her and Tony's romance. Anita (played by Ariana DuBose)'s air of confidence, conviction and passion throughout. I doubt that another cast of current actors could've portrayed these roles so well on the silver screen.
HOWEVER…
When I started talking about performances earlier, did you notice a name I left out? If you did, you figured out who that was — Ansel Elgort.
Don't get me wrong, Elgort as Tony has a very solid singing voice. It sounds very good, in fact. however, that's only half of what an actor needs to be when they're starring in a musical– especially one directed by Steven Spielberg. Everyone else- from Corey Stoll's police Lieutenant Schrank to Ariana DuBose's electric performance as Anita (damn, I can't talk about her enough she's so good!) they all bring their "A" game… except Elgort's acting as Tony. His acting performance feels a bit phoned-in and comes off like someone who's just bored to tears and going through the motions (especially in nearly a majority of his scenes with Ziegler's Maria) which is unacceptable for a film like this. Even with all of his great singing and mediocre acting, I have to give him his props for the last 15 minutes of the film. He conveyed the emotions he needed to in an effective way in that last segment, almost as if he thought "Oh shit! I have to act now? AND Spielberg is behind camera?! I gotta get it together!"
One major thing that makes Spielberg's take exponentially better than the 1961 film, is the inclusion of Latin actors (and extras too!) of nearly every shade in its cast. In the original movie, the only actor of Latin descent in the entire cast was Rita Moreno (who returns as newly-created character Valentina, the general store owner) while everyone playing all of the Puerto Rican characters were just Caucasian actors in brown makeup– disrespectful for obvious reasons and an aspect of the old film that always left a bit of a sour taste in my mouth. I am delighted, to say the least, to see that this version of West Side Story does the nearly the exact opposite. Not all of the actors in those roles are Puerto Rican, but they are all of Latin descent which is worlds better than this narrative's first on-screen outing.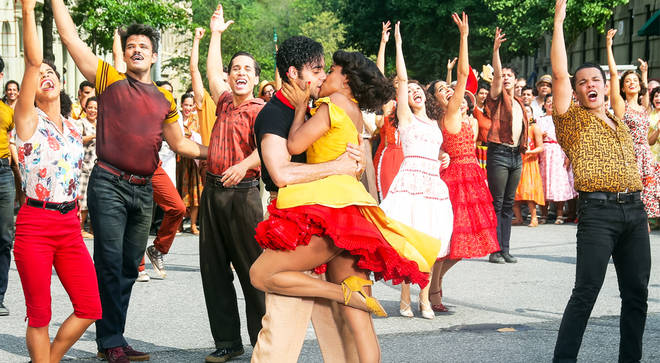 Now, what would a musical be without… well, music?
For starters, Leonard Bernstein's 1961 original score is kept in tact along with the late Stephen Sondheim's original lyrics (except a very miniscule tweak in I Feel Pretty. If you know, you know). Though Spielberg has collaborated with acclaimed score composer John Williams (Jaws, Schindler's List, Jurassic Park) in nearly every film he's directed, this time he used David Newman for composing and Gustavo Dudamel. They do a wonderful job at re-playing Bernstein's score note for note.
The songs that stand out for me are the same that have been my favorite since I first saw the 1961 film 10 years ago: America, Somewhere, and Maria (performed respectively by Ariana DuBose, David Alvarez, Rita Moreno and Ansel Elgort)
To sum up this entire review; despite some less-than-good acting from one of the leads and the tall order of living up to the legacy of Robbins, Bernstein and Sondheim's original production AND the 1961 movie, this version of West Side Story, to me, surpasses them in spades. Besides that of Elgort, the performances of everyone else tend to hold this film up to mountain heights, and command respect and admiration. The music still resonates even with different voices singing classic lyrics. Leave to a cast and crew such as this (and Steven Spielberg) to remind us that there's not only a place for West Side Story, but a place for great movie musicals…for all of us.
/Source Box/
Pictures: Sony Music/MGM/Heritage Auctions/Variety.com/20th Century Studios
Music: Walt Disney Records (via YouTube)