Read Time:
5 Minute, 3 Second
I want to have a conversation about how The Last of Us, part II, has left an indelible impression on all who've played what I would call, an instant Sony Playstation classic. Developer Naughty Dog circumvented all of players' story expectations, and quite frankly, I'm glad that they did. Going forward, we're going to take a bit of time to dissect what made this game so fascinating for me.
When Doing the Most Goes Wrong
Before I get into my analysis of the game, I would be remiss if I didn't give my take on how toxic fanboys of the game have been harassing the voice actors of the game, namely, actress Laura Bailey (the voice of Abby). To say that her mistreatment on social media was disgusting would be too kind. Upon reading the news reports and seeing some of the fanboys twitter posts, I was revolted, and angry. All because some dudes took a fictional narrative waaaaay to seriously. Ms. Bailey, or any of the other voice actors, have not warranted such vile, evil treatment by anyone (such as DEATH THREATS. Really?!), especially by cowardly keyboard warriors over the internet, who wouldn't bust a grape in a fucking fruit fight. Do something better with your time, and…just be fucking kind to people, you spineless little shits.
Man. I try to only post positive stuff on here… but sometimes this just gets a little overwhelming. I blacked out some of the words cuz, ya know, spoilers.

Side note. Thank you to all the people sending me positive messages to balance it out. It means more than I can say.❤️ pic.twitter.com/kGyULWPpNu

— Laura Bailey (@LauraBaileyVO) July 3, 2020
Since that's off my chest now… let's get back to some spoilers.
Seamless in Seattle
In The Last of Us, Naughty Dog pushed the Playstation 3 to its limit as far as graphics go, and The Last of Us, part II pushes Playstation 4's graphical capabilities to the processing brink with vibrant results. All of the colors, textures, light reflections, grit and grime seem so tangible, you can almost feel the slickness of the pouring Seattle rain, smell the rotting corpses of infected people (zombies), or feel the heat from an explosion caused by a well placed Molotov cocktail. Just within the visuals alone, on top of the other elements of the game, a high amount of verisimilitude can definitely be seen and heard as you play through the haunting narrative.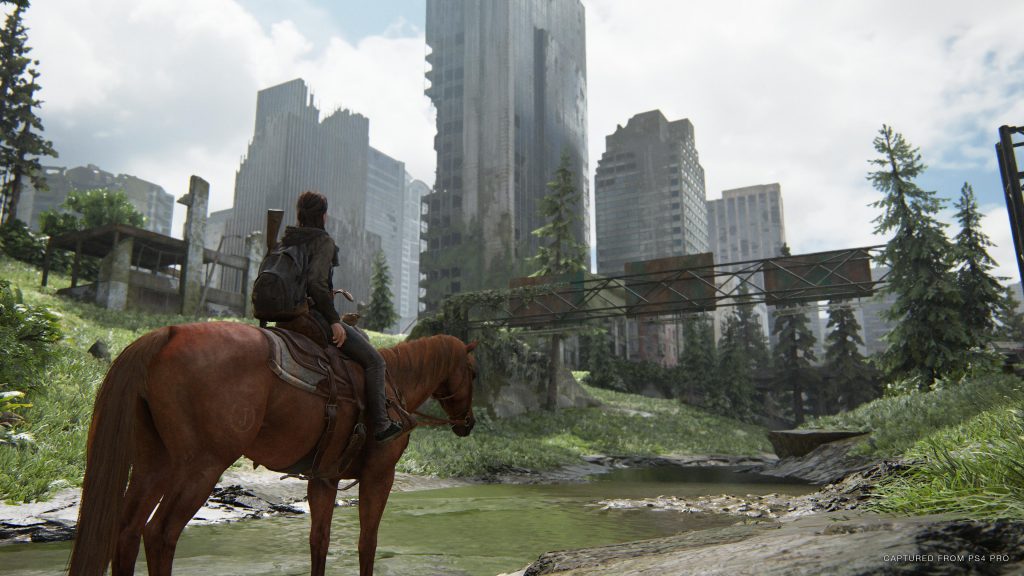 Nothing Gold Can Stay
One of players' favorite characters in the original game was bearded bad-ass Joel Miller. If you played the first game like me, you certainly must have grown a fondness for both he and Ellie, their adventures together, and you felt like you were coming home to familiar faces, and the seemingly welcome atmosphere of the Northwestern village settlement in which they are staying. Surprisingly, I was surprisingly charmed by the addition of new characters, Dina (voiced by Shannon Woodward) and Jesse (voiced by Stephen Chang), the resident teenage ex-lovers. Especially the dynamic that developed between Ellie and Dina, which, as you know, became so crucial to the story. However, if I learned one thing from this game, is that even the most endearing of characters are not safe from suffering a grisly fate. This very fact of the story of The Last of Us, part II, rang in my head almost as loudly as the deadly bludgeoning of Joel's head by the bitter blonde Swole Goddess, Abby (we'll get back to her in a minute).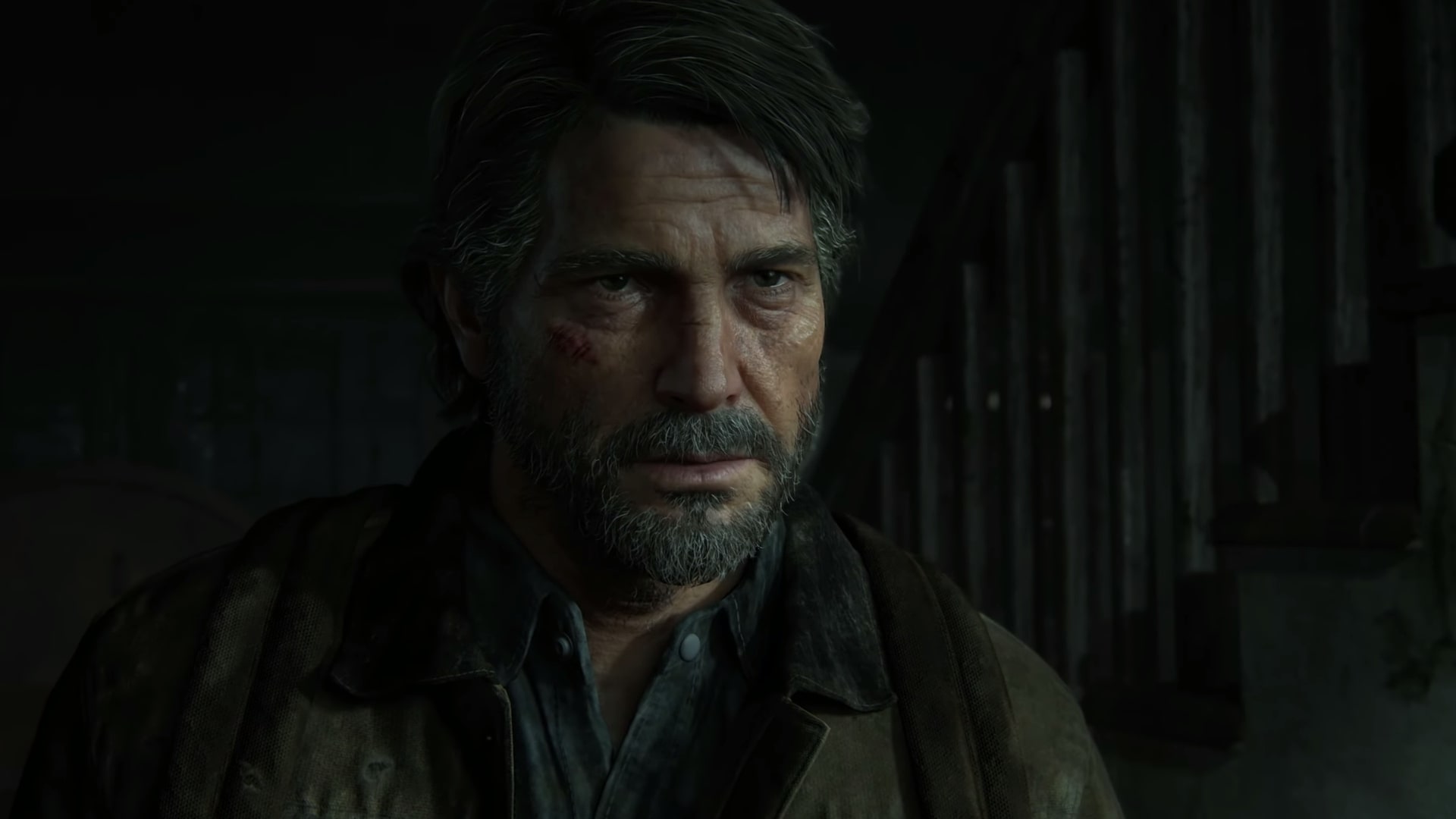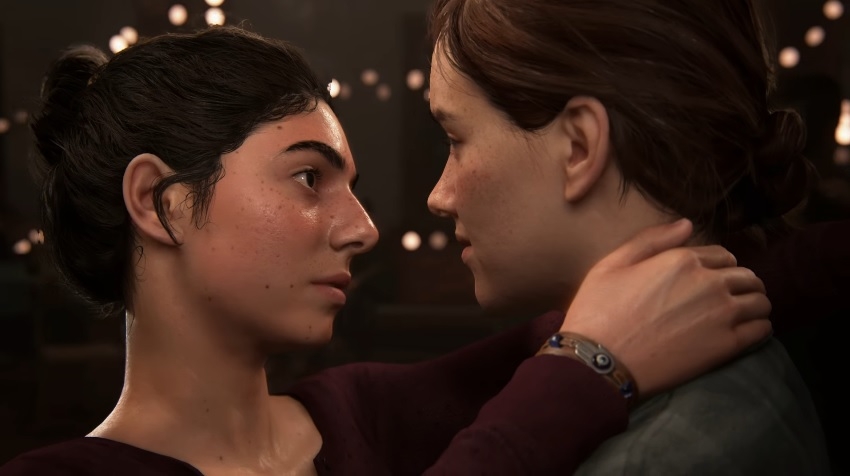 The Big Payback
After witnessing Abby, and the other militia members of the Western Liberation Front (WLF, or, WOLF), naturally, Ellie sets out on a quest for revenge as she (and sometimes Dina and Jesse) run through more than their fair share of Infected Stalkers, Clickers and Shamblers and different militia factions in the path through the dreary and crumbled city of Seattle. The more she pushes through, the more her flame of vengeance grows so much to the point where, regardless of what is going on around her (Dina being pregnant by ex-boyfriend, Jesse, or, Jesse being swiftly slaughtered by Abby), she would not relent, until Joel has been avenged. Even after she has a near deadly encounter with Abby (who decides to spare her, Joel's brother, Tommy, and a pregnant Dina), and months of peace afterwards, settling down Dina and her infant son, the obvious PTSD that Ellie still experiences causes her to forsake everything else in her life. Including, Dina and the baby themselves. In my opinion, that was a move of blind stupidity on her life.
Sympathy For a Devil
The most interesting twist of The Last of Us, part II, is the sudden change in gameplay perspective from Ellie, to Joel's murderer, Abigail "Abby" Anderson, WLF mercenary, and former of the Fireflies, the main militia and medical research group from the first game. When her gameplay portion started, I was still pretty pissed at her for killing Joel and saw her as most people would see the Devil himself. However, as her part of the narrative unfolded, from her training to become an exceptional soldier, to her relationship to fellow Wolves, Mel, and her former lover and fellow merc Owen (whom she still has the hots for), I gradually became more empathetic to her reasoning behind doing what she did (after all, what would YOU do if you were face-to face with YOUR FATHER'S MURDERER?), plus, I was fascinated by the transition from a revenge story, to one of redemption with the rescue of a young boy, Lev, from a cult and their subsequent friendship and perilous adventure.
They Knucked, and They Bucked
As I said in the non-spoiler review, this is also a story of loyalty, love, sacrifice, and the lengths that a human being can go for the sake of vengeance. That description isn't more evident than in the last brutal fight sequence between Ellie and a starved prisoner of war, but still strong-as-hell Abby on that dingy Santa Monica beach. Whew.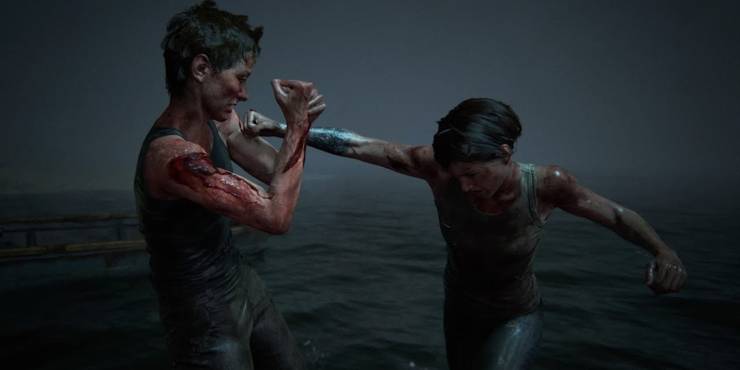 I could go on, but we played the game already. Naughty Dog has another hit and "Game of the Year" contender on their hands, and rightfully so.
(Screenshots: @LauraBaileyVO (Twitter)/Naughty Dog/Sony Computer Entertainment)