Read Time:
6 Minute, 33 Second
There's a scene in Warner Bros' newest DC Comics Extended Universe (DCEU) installment– The Suicide Squad— that completely encapsulates the strongest element of its story: Verisimilitude.
In this particular scene (which is a blink-and-you'll-miss it moment) where members of Task Force X (which includes the likes of Idris Elba's expert assassin, Bloodsport) are on a bus ride though a section of a South American island town when one of the characters, Nanaue, a giant man/shark creature, happens to look outside his window and sees a couple near the street being affectionate with one another. Though he is a fully-CGI character, The look of longing that you clearly see on Nanaue's face…implying that he's asking himself "why can't I have that?" Though there should be no way possible that a shark-man should even have any level of believability, this brief and tender moment makes such a character a little more human, relatable, and made the idea of a character like Nanaue a little bit more believable. It's moments like this that sell The Suicide Squad for me.
The Suicide Squad is a psuedo-sequel/reboot to the commercially successful yet less-than-well received 2016 film, Suicide Squad. A few of the stars of that film, return to reprise their roles here such as Margot Robbie as everyone's Mad Mistress of Mayhem, Harley Quinn, Jai Courtney as the wise-cracking (and in my opinion, underappreciated) Captain Boomerang, Joel Kinnaman as the squad's leader, Col. Rick Flagg, and Viola Davis in an even more cold, calculating and menacing turn as shady Task Force X boss Amanda Waller. Some of the newcomers in this vast ensemble are Blackguard (Pete Davidson), the aforementioned Nanaue (aka King Shark, voiced by Sylvester Stallone) and John Cena's campy yet deadly performance as Peacekeeper. Like in the previous film, the worst misfit supervillains are hand-picked by Waller to carry out missions that have an extremely low rate of survival. This time, Without spoiling much of the plot, the story follows the expanded edition of Task Force X into a mission somewhere in South America, where danger, mystery and hijinks will ensue.
There's not much for me to actually dislike about this film, especially being such a fan of its director, James Gunn. The director of Slither, Super and Marvel Studios' Guardians of the Galaxy fame, he's has been known for writing and directing stories that have great ensemble casts with the central theme of societal misfits coming together. One of the things that drew me to this film was the crazy violence. After doing PG-13 fare, Gunn got the chance to showcase a little brutality along with the humor and heart of his stories (thanks to the intended "R" rating) for the first time in quite a while, which leads me to my first good thing about the movie:
THE GOOD
The Opening Scene
The opening scene to this movie was, for lack of a better term, BONKERS. They really pulled out all of the stops for this one. From Blackgaurd trying to freaking out while dodging a barrage of machine gun fire, to TDM (Nathan Fillion) controlling his separated floating arms, people exploding, and Harley Quinn carrying a bazooka (and who doesn't love Harley carrying a rocket launcher and blowing shit up?) It's best to think of this sequence as a more fun version of the Normandy Beach scene in Saving Private Ryan (note: for those too young to remember that movie, google that one, then watch this film's opening sequence and you'll see what I mean)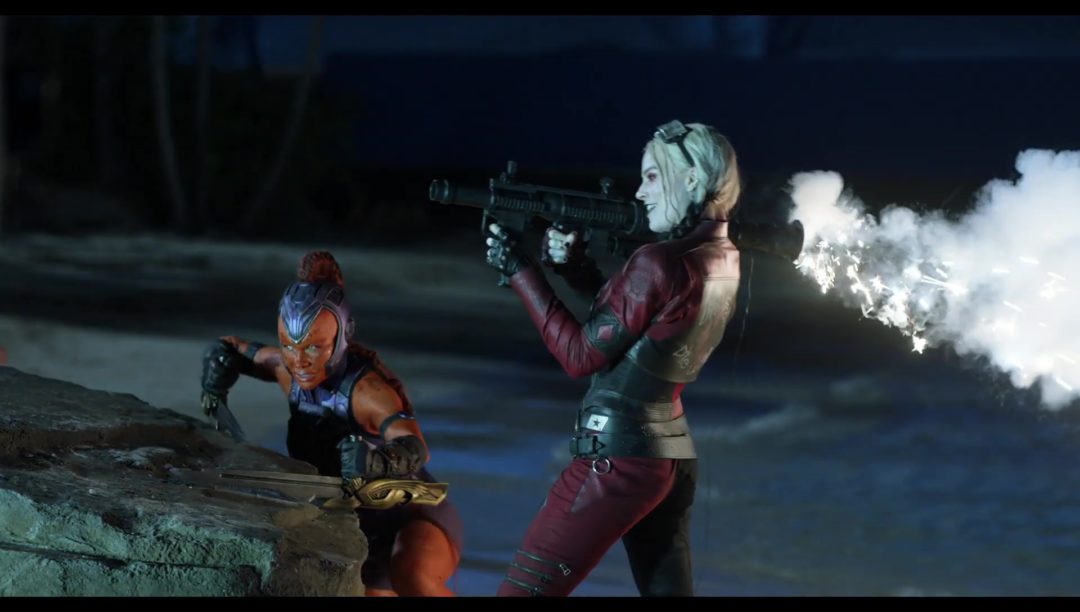 Notable Performances
Oh, Rats!
-One of the performances that haven't mentioned until now, is that of Ratcatcher II (played by Daniela Melchior). Melchior's performance as the daughter of the original "Ratcatcher" effectively displays the character's deep level of patience and empathy for most of those around her, even some of the strong personalities of the rest of the team, particularly, Bloodsport. Their almost parent-child like dynamic is the most emotionally touching of the entire film.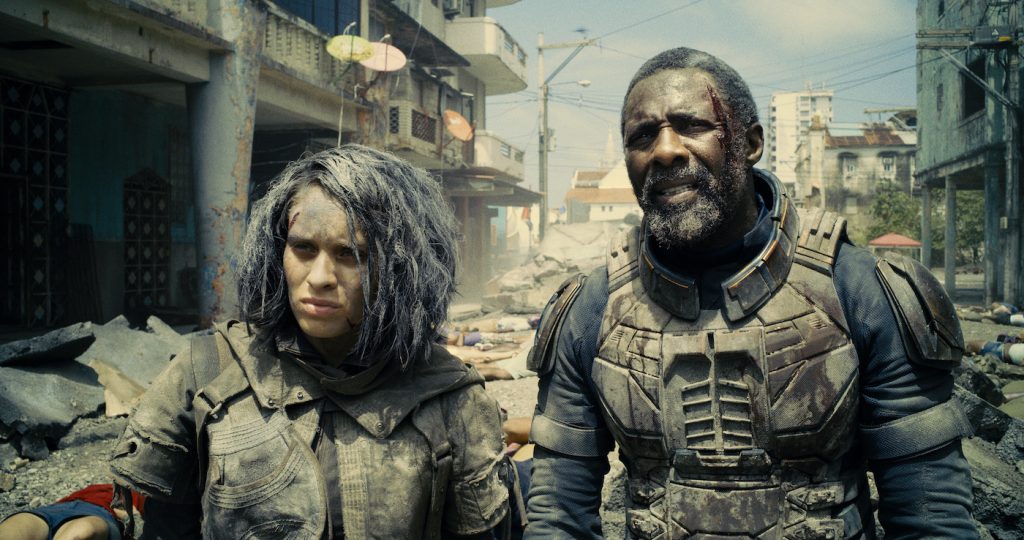 Becoming a Good "Sport"
-Speaking of which, Idris Elba's role as master assassin Bloodsport serves, in a way, as the team's voice of reason. He just wants to get it all over with and get back to his own daughter (played by A Wrinkle in Time's Storm Reid). However, seeing him evolve from having a gruff "I don't give a shit" attitude, to actually becoming more invested in why he and the rest of Task force X have to complete their mission is an interesting development to watch. He comes a long way from being the guy that apparently, shot Superman with a Kryptonite bullet.
Connecting the Dots
-David Dastmalchian's role as Polka-Dot Man is equal parts morose, humble, and determined. He's a character that has…very unconventional motivations and seems to really want to matter. To me he does, as his presence (and his "super ability") turn out to be very valuable to the Task Force X team.
Harley's Fully Revved Up
-Last, but definitely not least, we have to talk about how much Harley Quinn is the most fun to watch in this film compared to her other appearances in the DCEU, mainly because her personality and charm most resembles the heart and zaniness of her Batman: The Animated Series counterpart. Margot Robbie defintely looks like she's having the most fun here and it shows. Don't believe me? Just at the look of utter joy on her face she kills her way through the most… colorful hallway fight scene ever.
THE BAD
Being the most casual Doctor Who fan there is, I was most interested in how former Doctor Who actor Peter Capaldi would be used here. Although his performance as The Thinker was solid… for some weird reason, I felt like he was a bit underused here.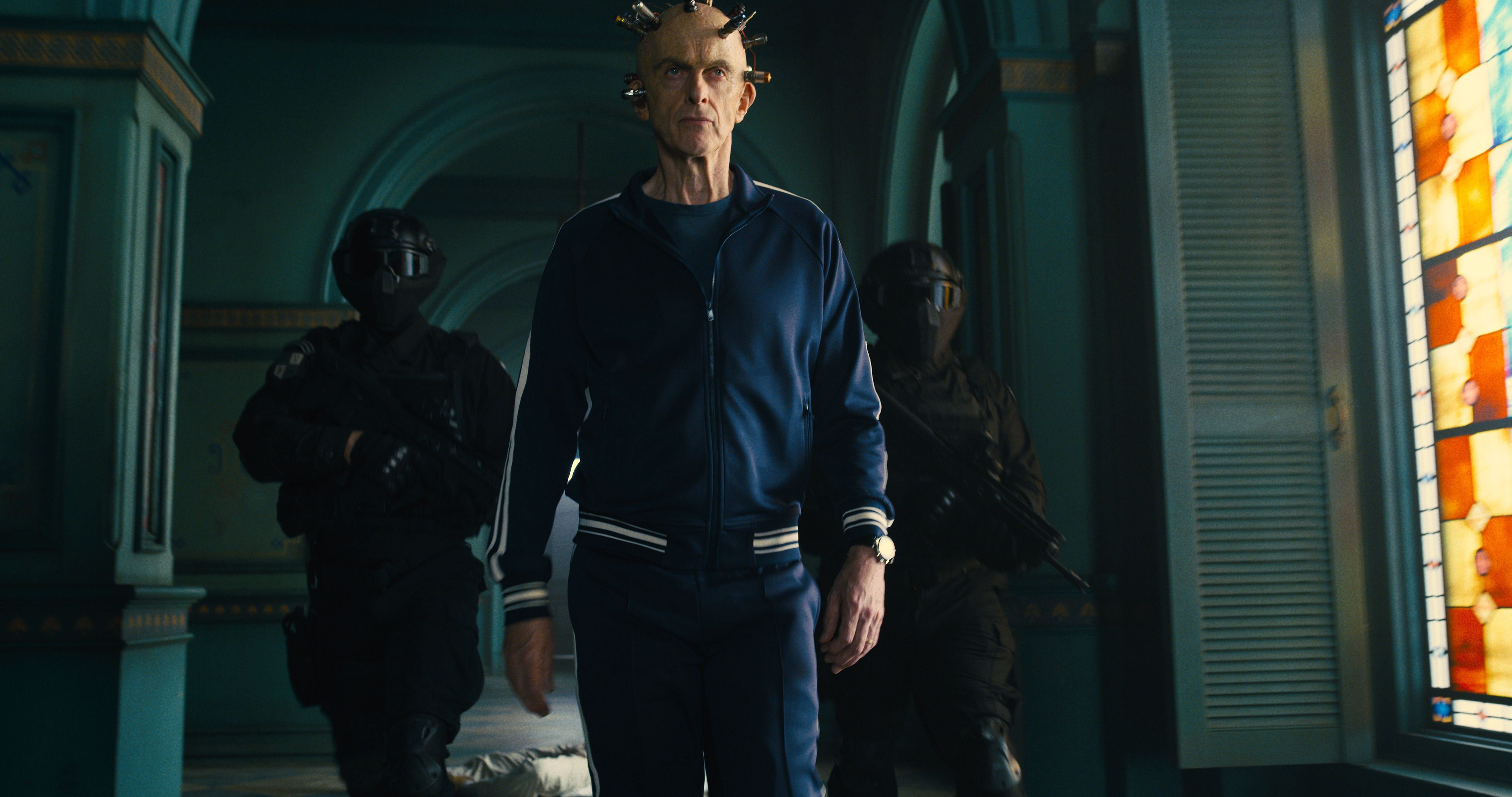 Although director James Gunn made it clear from the first announcement of this movie that a lot of characters were probably going to be killed, one favorite of mine unfortunately bit the dust (I liked nearly all of the characters, so have fun guessing which one's death generally upset me). I know this is pretty nit-picky, but still…
THE GREAT
Let's talk about that soundtrack, y'all. Just like James Gunn's Guardians films before this, The Suicide Squad has a very robust soundtrack with tracks that are quite good. From vintage classics such as Johnny Cash's Folsom Prison Blues, The Jim Carroll Band's post-punk anthem People Who Died (given the amount of death there is in this film, it definitely fits.) to, in my opinion, a very proper use of The Fratellis' somber and heartfelt Whistle For The Choir. Each track played in the movie not only relates to everything going on in the story, but as a whole, it straight up slaps.
To sum it all up, The Suicide Squad, though it may have its high level of campy humor and gratuitous violence, this movie has won me over due to the great performances which highlight the believability of the characters and the world in which they inhabit. The more I think about it, the more I really shouldn't be surprised. After all, The Suicide Squad was written and directed by a man who made buy into the idea of a walking talking tree creature, and a wise-cracking, gun-toting raccoon (thanks to Guardians of the Galaxy).
I had so much fun watching this movie and I got the sense that the cast and crew had just as much fun putting it together.
Hopefully, you'll have nearly as much fun watching this as I did.
/Source Box/
Photos; Warner Bros./DC Comics
Music: Warner Music Group (via YouTube)