Read Time:
7 Minute, 52 Second
Imagine you're sitting in your car, waiting in traffic. A familiar song that starts off with nothing but steady synthesized beat and an occasional sound of a faint electric guitar comes on your music streaming playlist, or your satellite radio dial and you start vibing. Eventually, the song reaches a point where the drums finally kick in and when they do, you immediately use your hands to mimic those drums by feverishly slapping your steering wheel! Whenever you hear this song, no matter where you are, you feel the involuntary compulsion to air drum, or mimic the drum break in any way you can at the time. Don't worry, you're definitely not the only one who does this. I'm pretty sure millions of people do whenever they hear artist Phil Collins classic track In The Air Tonight. Before I even typed the letter in Collins' name, you already knew what song I was talking about.
February 13, marked the 40th anniversary of the album that song is featured on and Phil Collins' first solo project, Face Value. Unless you're a die hard Collinsite (yes, I just made that up) like myself, you have no idea of the backstory to the making of this classic album, and the circumstances, particularly with Collins, that made the project come to fruition.
Fueled By Heartbreak
Before Phil Collins inserted himself in the lexicon of pop culture with blistering synth drums, ballads, or writing songs to arguably, one of Disney's greatest film soundtracks (1999's Tarzan), he (a drummer and a lead singer), along with lead guitarist Steve Hackett, keyboardist Tony Banks, bassist Mike Rutherford and another frontman, Peter Gabriel, were the progressive rock band known as Genesis until 1975, when Hackett and Gabriel left the band to pursue solo ventures. Once those two had left, Collins reluctantly assumed the mantle of frontman. The remaining three members of Genesis released an album, aptly titled …And Then There Were Three in 1978 with a nine-month world tour that followed. One would naturally think that everything was going relatively smooth, at least for Collins, given the tour was pretty successful. However, success would become a major problem for his wife, Andrea Bertorelli, who was becoming increasingly irritated that he spent so much time on tour with Genesis, and virtually none with her and their two children. She would give him an ultimatum: Either come home to your family or, commit to the tour and come back to an empty household. Despite this, Collins stressed to Andrea that they (the band) were on the verge of an international breakthrough, which would result in the tour paying off very big.
Apparently, Andrea wasn't trying to hear any of that shit.
She would later take the children with her back to her family's home in Vancouver, Canada as a result. Collins would later join them after the tour in the hopes of salvaging his marriage. Unfortunately, the move would end up proving futile, ending in divorce. This ordeal would be the main source of inspiration for Face Value. This would be the most evident while he wrote In The Air Tonight and If Leaving Me Was Easy.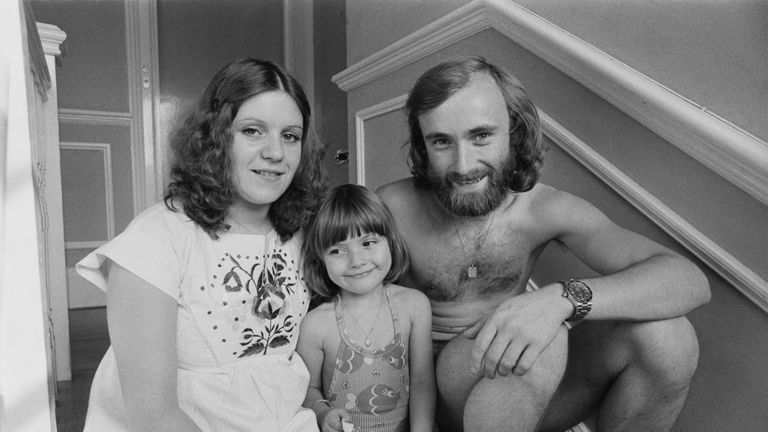 Time To Leave The Nest
In 1980, Genesis released Duke, which would be the prototype for not only the band's more synth-heavy sound, but for Collins' own sound as well. After playing a rough demo of what would be In The Air Tonight (yup, that song you play the air drums to) and If Leaving Me Was Easy to Banks and Rutherford, it was decided that those songs were not a good fit for the album. However, they would be a perfect fit for a Collins' solo project. After signing a solo contract to Virgin Records UK, Collins began work on Face Value which would include the two aforementioned tracks.
Recording sessions for Face Value took place at the Townhouse Studios in London between June 1980 and early January 1981. The demos recorded onto 8-track were transferred onto 16-track. In an episode of popular British documentary series Classic Albums, in what was considered to be both a controversial and unconventional move, Collins, who grew up listening to American R&B (primarily, acts under Motown Records) as a child in Chiswick, West London, decided to incorporate an R&B horn section, hiring the Phenix Horns, the back-up horn-centric band for Earth, Wind and Fire. Collins had asked a contact who knew the group if they were interested, and once they agreed to meet, Phenix Horns' leader Thomas "Tom Tom 84" Washington sat down with Collins who asked him to sing the sections where the horns were to be placed into a tape recorder. The group recorded their parts the next day.
Recording a Perfect Storm of Genres
The simple style of music on Face Value was reasoned by Collins as his fondness of jazz fusion band Weather Report's simple melodies and for African-American music. Collins controversially included drum programming rather than just live drum instrumentation despite his reputation as a drummer. Collins said he wanted to experiment with different sounds and was inspired by the work of his former bandmate Peter Gabriel, who had used drum programming on his last album; Collins was part of these sessions. Many of the songs' arrangements were done by Collins and session arranger Thomas "Tom Tom 84" Washington. He incorporated Indian-styled violins, played by L. Shankar, for additional textures.
The last recording session for Face Value was in January 1981. Initially for In The Air Tonight, Atlantic Records (the label for US Distribution) CEO Ahmet Ertegun suggested that Collins should perform drums during the verses and opening of the song. However, Collins decided not to include the live drums until the bridge of the track. Personally, I'm glad he made that decision.
The album is a perfect storm of different genres. While technically a rock/pop title, the basis of many of the tracks lies in the realm of R&B with some funk influences, particularly in I'm Not Moving, for which Collins used a vocoder while his backgrounds. Droned and Hand in Hand are progressive rock instrumentals, the first of which featuring an Indian raga sound, while Hand in Hand features jazz elements, a black children's choir from Los Angeles humming the music, and improvised instrumentals by Collins and the Phenix Horns. The Roof Is Leaking has blues and country elements. Behind The Lines was originally recorded by Genesis on the Duke album as a progressive rock number. Collins worked up a horn-driven R&B/funk-inspired arrangement after speeding up the tape on the Genesis version and thinking that the sped-up version sounded like a song straight out of a Michael Jackson album. The sheer craftiness of this album continues with haunting separation ballads, You Know What I Mean and the Motown-influenced If Leaving Me Was Easy. There's also a cover of The Beatles' Tomorrow Never Knows, which includes instruments and vocals being played in reverse while Collins provided multi-layered background vocals and sparse drumming. After the song ends, Collins can be heard quietly singing Over The Rainbow, in reference to the recent passing of John Lennon; this final song is unlisted on most releases of the album (the original US cassette version being an exception), and would be the only time a hidden track would be used by Collins in any solo release.
Soon after Face Value's release in February of 1981, the world was already taken by storm by its first single, that's right– In The Air Tonight. Some months later, MTV network debuted on cable TV (believe it or not kids, MTV used to play music videos!) In 1984, the song was memorably used in a scene from the pilot episode of the NBC television series Miami Vice, which film and television critic Matt Zoller Seitz cited as why the song has been stamped as "Property of Michael Mann" (the series' executive producer) for many years, rarely being used in any movie or any other TV shows due to its heavy association with the series, not too dissimilar to Martin Scorsese's signature use of songs by The Rolling Stones for his films. In the Air Tonight received a new wave of attention thanks to its use in the series, enough for it to briefly re-chart in the United States.
No matter where you go, even to this day, the track will come a radio near at some point. Its also been covered by many artists such NuMetal band Nonpoint, and sampled by acts such as boy band MiC LOWRY.
In short, We all know Phil Collins as a pop music powerhouse. As a fan myself, I'm very grateful that the stars aligned and he pulled that solo trigger 40 years, forever changing the face of popular music as we know it.
/Sources/
Bowler, Dave; Dray, Bryan (1992). Genesis: A Biography. Sidgwick & Jackson Ltd
Barber, Lynden. (7 February 1981). Facing up to new values. Melody Maker. Retrieved 13 February 2021.
Seitz, Matt Zoller. (31 January 2013). The Americans Recap: Way to Commit. Vulture. Retrieved 14 January 2021.
Photo cred: Atlantic Records, Sky News
Music Tracks: Phil Collins (YouTube)
Video: NBC/Universal (Miami Vice)